WE WELCOME VOLUNTEERS FROM AROUND THE WORLD!
Come and volunteer with Kilimanjaro Childlight Foundation (KCF) and have an unforgettable experience, while making a difference in the lives of vulnerable children in Tanzania! We welcome volunteers to assist with our community outreach, education, health and renovation projects. Come and experience traditional Tanzanian life, immerse yourself in the culture and gain an insight into the problems facing people living in poverty.
You will have the chance to explore one of Tanzania's most beautiful regions on your time off: catch a glimpse of the big five on an unforgettable safari in the Serengeti, take a day trip to our nearby hot springs and waterfalls or hike the highest mountain in Africa, Mount Kilimanjaro.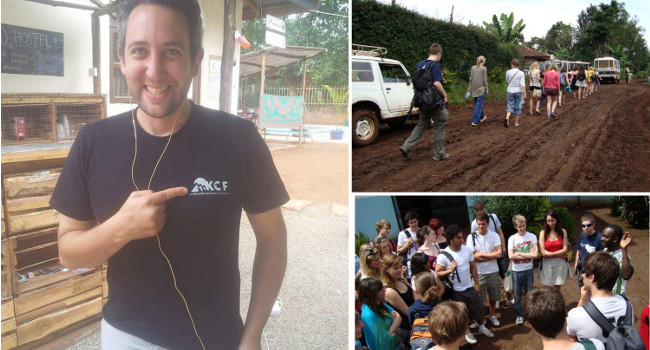 Volunteering with Kilimanjaro Childlight Foundation is a unique and rewarding experience that's safe, fun, and exciting. But most importantly, you will have a chance to make a positive impact on the lives of some of the most vulnerable children in Tanzania!
We offer a number of volunteer opportunities and programs that can also be tailored to suit the volunteer's skills and expectations:
Volunteer as a teacher in a local school or orphanage and invest in a child's future. Your caring input will be a great help and much appreciated as schools are often under staffed and lack resources.
Help improve health standards for vulnerable children. Provide awareness on improved hygiene and sanitation practices and teach about malaria and HIV/AIDS prevention. Visit sick children in hospitals and offer support.
Partake in our community outreach projects and help us offer care and support to children whose families live in extreme poverty. Our community projects assist vulnerable families with food, clothing, educational resources and healthcare.
Improve the living and learning conditions of disadvantaged children and help us rebuild and renovate schools, houses, and orphanages through our Future Light Projects. Click here for more details.
EXPERIENCE LOCAL CULTURE!
Volunteers will have the opportunity to learn and share in Tanzanian life. You'll have the chance to:
EXPERIENCE TANZANIAN LIFE

Visit some rural villages to learn about and experience Tanzanian life.

COOK TANZANIAN FOOD

Cook Tanzanian food such as Ugali, Makande and Machalari.

PLAY THE AFRICAN DRUM

Learn to play the African drum.

TANZANIAN SONGS & DANCES

Sing and learn Tanzanian songs and dances.

CREATE LOCAL ART

Help create local artworks.
PLANT & EAT

Plant and eat local vegetables and try local coffee.

USE TRADITIONAL TOOLS

Use traditional Tanzanian tools for different activities.

HIKE & VISIT THE COUNTRYSIDE, WATERFALLS & HOT SPRINGS

Hike in the countryside and swim in waterfalls and hot springs.

RELAX & SWIM

Relax by a swimming pool and soak up some rays.

LOCAL MARKET & PARKS

Visit Moshi's markets and parks.

DRINK BANANA WINE!

Make and drink banana beer wine!
ACCOMODATION AND COSTS
All volunteers will be provided with safe, clean, and comfortable accommodation. 
We offer a number of different accommodation options:
Camping: $4
Dorm: $6
Double rooms shared bathroom: $10
Double rooms shared bathroom including breakfast: $15
Private rooms shared bathroom: $15
Private rooms shared bathroom including breakfast: $20
Volunteers can choose to have their food included for an extra cost of $6 a day or self cater in our kitchen.
KCF accommodation can provide:
Hot and cold showers
Electricity
Internet access
Communal lounge area with TV
Kitchen for self catering
Beautiful landscapes and nearby views of Mount Kilimanjaro
Laundry service
24hr security
Airport transport service
Bookings for tours and activities in the area
We ask volunteer's to pay a volunteer program fee to cover the running costs of the project they will be assisting with. The fee will cover your transport to volunteering sites, an orientation meeting on arrival, local SIM card, and a donation to the project. The cost varies depending on what project you will volunteer on and the length of stay but is approximately $25 a week.
EXAMPLE OF A VOLUNTEER WORK WEEK
Here's what to expect if you volunteer with us
VISION
Fighting for welfare of the children is our daily business; we have to make sure they get all the support they deserve with no obstacle for a bright future.
MISSION
Our mission is to take action and be the voice of the future for disadvantaged and vulnerable children.
OBJECTIVE
To deliver health care, health awareness, enhance childrens access to primary level education and to promote welfare of children.